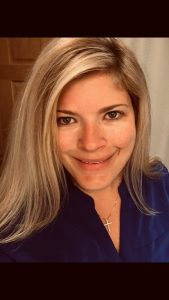 Kristy Kieda, M.B.A. is the Sales Office Manager and Trade Show Coordinator for Pathfinder Systems, working in the concrete equipment industry. Bringing equipment to the market that helps to build our communities is an area that has always been a passion of mine. Managing projects is a skill and passion that I use in most areas of my life. Past experience in hospitality and education has provided a myriad of experiences and life skills as well as empathy for people from all situations and walks of life.
I graduated from The Ohio State University with a B.A. in Political Science and graduated summa cum laude from Cornerstone University with an M.B.A in International Business in 2011.
Outside of work, I have a small dog named Henry McFudge who I adopted from a shelter and have gone through extensive dog training with. He is a cairn terrier (like Toto from Wizard of Oz). I hail from the Riverside Park area of Grand Rapids, MI where I grew up in a small house similar to my 1920 house in Grandville. I play golf, disc golf, kayak, avid runner and enjoy yoga on a near-daily basis. Taking my dog on long walks on area trails in Grandville is one of our favorite activities together. My love of classical music, other music genres, and live music led me to the Grand Rapids Symphony, where I started volunteering in 2011. I have also been slowly working on my house in downtown Grandville as it was a bit outdated when I purchased it in 2016. The experience of growing up renovating homes with my family has helped me with the many projects my current house needed to become a beautiful home that I can be proud of. I continue to volunteer and help others whenever possible, and love being involved with my community.
Can you give an example of how you have contributed to the community in the past?
I have contributed to the community in many ways, past and present. Currently I am serving on the City of Grandville Zoning Board of Appeals since 2017. I am also serving as a Board Member on the Ohio State Alumni Club of West Michigan since 2008 and lead volunteer groups, book clubs and other activities. Current elected precinct delegate in Grandville since 2018. Volunteer with the Grand Rapids Symphony since 2011. Other various volunteer commitments as the need arises.
What do you feel is the most important attribute you bring/would bring to the City Council and why is that attribute important?
An important attribute I would bring to the Grandville City Council is my diverse background that would bring a fresh approach to the issues facing the Council. My educational, professional and personal background are all quite diverse and I have a wide variety of experiences to inform my perspective. I always try to see issues from every angle to better understand the potential opportunities and unintended consequences of decisions we may make.
Is there something you would most like to preserve about your community?  Anything you would like to change?
Continuing to encourage Grandville's growth as a safe and warm community with green spaces and thriving business is important to me. As the city grows and changes, that presents us with challenges that we must face with open minds and careful consideration. Current hot topics are chicken/livestock in the city and housing PUDs that will require decisions to be made.
Do you have experience working in groups or with diverse interests?
I have experience working with groups and with diverse populations. I grew up near downtown Grand Rapids and attended public school in the city, and later taught students in the same district, GRPS. I've also led tutoring programs for GRPS students as well as taught ESL through a volunteer program in Kentwood. I attended and graduated from a very diverse university in Columbus, OH with my undergraduate degree.
If elected, how will you be a positive representative of the City of Grandville and its citizens?
If I am elected to the City of Grandville City Council, I will positively represent the City Council through my current efforts to be involved with and give back to our community, and will also be thoughtful and diligent in researching topics that require a decision, and empathic when making decisions.