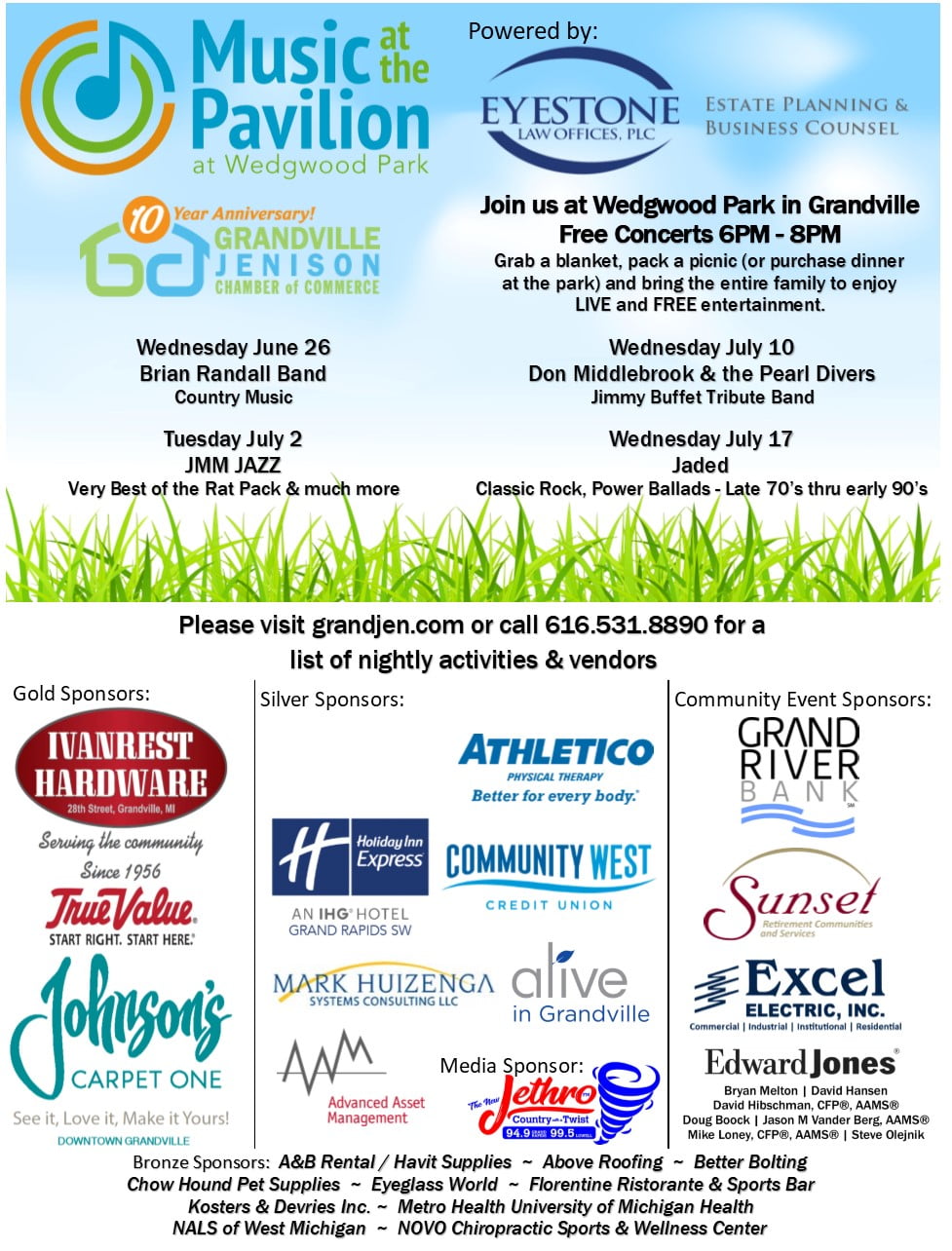 Join us for our Inaugural Music at the Pavilion at Wedgwood Park, Grandville
Please note – The Series will now start on Wednesday, June 26  6 pm – 8 pm
Location: Wedgwood Park, 3391 Wilson Ave, SW
Additional Parking: Additional Parking available at Grandville Middle School, 3535 Wilson Avenue, SW
Seating:  Limited picnic tables will be available, so plan accordingly and bring your own chairs and/or blankets.
This week only – *8 pm – ?  Feel free to stay after and listen to an informal practice session of the Brian Randall Band  on some original songs they are working on for an upcoming album.
Refreshments: – Feel free to pack your own refreshments and dinner, but if you don't have time, the following vendors will be on hand.
$3 – $`10  D&D's Gluten Free Food Truck (Menu)       
Popcorn Creations – $3 and up
Wildroast Coffee – Full Bar, Latte's, Iced Drinks and More… $3 and Up
 Kids Activities:  Playground and local non-profits and businesses will have free kids activities and giveaways.
Pets: Feel free to bring your pets, following local leash laws.
Stuff the Bus; The Chamber has partnered with Love Inc. Who has teamed up with area schools to identify over 600 kids in need of backpacks and school supplies. Bring your supplies to any of the Chamber's Music Series in both Grandville and/or Jenison.
Supplies Needed:
Backpacks  |  Black Dry Erase Markers |Large Glue Sticks |Composition Notebooks| Plastic 2-pocket folders | Earbuds/Headphones |Plastic Pencil Boxes |Blue/Black ink pens |Packages of #2 yellow pencils | Wide rule spiral bound notebooks |Washable markers |Scissors |1.5″ 3-ring binders |Kleenex | Disinfectent Wipes | Clipboards |Boxes of Crayons  (24 counts Crayola)
Still have a question: 

[email protected]

or call 616.531.8890
Tuesday, July 2 
JMM JAZZ, Some of the best songs ever recorded by artists such as Frank, Dean, and Sammy and so many more.
Wednesday July 10
Don Middlebrook & the Pearl Drivers , Jimmy Buffet Tribute Band
Wednesday, July 17 
Jaded – Classic Rock, Power Ballards, late 70's thru early 90's rock.