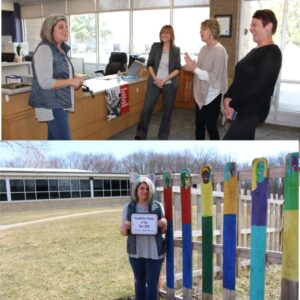 The Grandville Jenison Chamber is proud to present Amy Gardine, 2019 Grandville Citizen of the Year. Dawn Sjaarda, friend and business owner of Vacuum Cleaner Center nominated her for her work and creation of a South Elementary Community Garden.  Her full nomination is below.
Amy will be celebrated at the Chamber's Community Awards Ceremony held on Thursday, April 25 from 6:30 pm – 8:00 pm.  The event is free to attend and open to the public but registration is required.
I am nominating Amy Gardine for Grandville Citizen of the year. Even as a relatively new resident of Grandville, she has embraced the town and her neighborhood, putting tons of time & energy into making them thrive. She has done this particularly through her volunteer work at South Elementary where she started a land-based education initiative. Amy understands the importance of collaboration & community, which is evident throughout the creation of her community garden project. After gathering the support of the school administration & teachers, partnering with nonprofits like Grandville Tree Board and Hope Gardens, & securing grant funding, she began the South Elementary Community Garden.
In 2016 learners of all ages helped to dig holes, plant their first fruit trees, and amend the soil to enhance growing conditions for the garden plot, all while learning science lessons about decomposition/compost, nutrient needs of plants & humans, and how humans impact the ground under their feet. After the "Big Grandville storm" that ripped through the community that year, Amy reached out to Mayor Steve Maas with the need for garden mulch. The trees lost to the storm became the mulch that would provide rich soil for students to plant in, and helped clean up the community at the same time. Since then, the garden has grown, and a greenhouse been added to start seedlings in the spring.
The students continue to plant, weed, and care for the garden. Amy understands the need for children to experience hands on outdoor education, including knowing where their food comes from. She reached out to the PTA for funding so Hope Gardens could instruct students in every grade about these topics. Students also get to vote for what they'd like to plant in the garden, which then uses the students' math skills for counting and graphing the results. It also explores the democratic process of voting, simultaneously building esteem in the kids because their voice is heard and valued as a contribution to their community.
Additionally, Amy has students create works of art to display in & around the garden. While these are partly practical solutions to keep pests out, make a walking path for safe travel through the space, etc., they also address arts standards. In 2017 Amy helped students create "self-portrait" fence slat paintings after learning about a few different art styles. These are on display as the fence around the perimeter of the garden, creating a colorful welcome to the neighborhood & school grounds.
A selection of these also were shared with Downtown Grandville for the Chocolate and Art Walk event in 2018, displayed along the fence around construction of 4005 Clocktower at Chicago Dr & Wilson Ave. In 2018 students created stepping stones to line a path through the center of the garden, up-cycling broken objects. Additional members of the Grandville community were invited to create stepping stones to complete the path as needed.
The garden was planted to produce food for families through the summer months as well as fall crops which allowed continued educational offerings on harvesting and seed saving. Children enjoy eating food that they planted in the spring, creating some colorful salads and tasting healthy foods they hadn't tried before. Since the produce also needs to be picked during summer break, families can come to the garden, help tend it and take food home. Remaining produce can be donated to the food bank. In May 2018, when there were too many seedlings to plant in the garden, Amy had students transplant them into larger pots for donation to Senior Neighbors of Grandville to help its participants have food security over the summer months. As such, Amy's vision for a school garden program has far reaching effects with hopes that students come away with an understanding of food security and social justice.
Amy's dedication to this project and the kids and families South Elementary neighborhood astounds me. She gives so much of her time & herself to offer cross curricular experiences that translate outside the classroom and then out into the community. I have no doubt that Grandville is a better place because of the lessons these students have learned through this garden project. I hope you will thoughtfully consider Amy Gardine as 2019 Grandville Citizen of the Year.