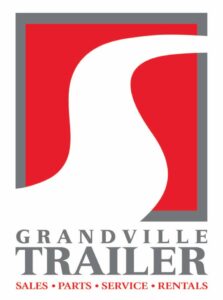 Contact Name: Rick Cornelisse
Company Website:
www.grandvilletrailer.net
Phone: (616) 538-2290
Address: 
3319 28th St SW
Grandville, MI 49418
Who Are You:
I'm Rick Cornelisse, the new owner at Grandville Trailer. I'm a lifelong resident of West Michigan and look forward to continuing to help this community thrive. After a career spanning finance, marketing, IT, and consulting, I was fortunate enough to be able to join the team at Grandville Trailer in early 2020. I've been married for 16 years to my wonderful wife Carrie, and we have two great daughters together, 6 year old Emery and 8 year old Natalie.
What Does Your Company Do?
Grandville Trailer is West Michigan's one stop shop for all towing needs. We offer the best inventory on trailers and parts, a full service garage, and trailer rentals. We carry enclosed cargo trailers, open utility and equipment trailers, dump trailers, UTV, snowmobile and car haulers, used trailers and more. Choose from trusted brands like NEO, FLOE, Diamond C, Aluma, Sport Haven, Cross, Formula and others! Whether you need to get your equipment to your jobsite or your UTV to your campsite, we want to help get you there!
Why Did You Join The Chamber?
We continue to be members of the Chamber because I believe as a business its important to remain connected to and give back to your local business community. I appreciate the events and opportunities that Chamber membership provides.
How can the community help you?
The community can help me the same way they can help all of us. Shop local when you can and always try to help each other. Remember that a referral is the highest compliment for most small business and try to be generous when you can give one.