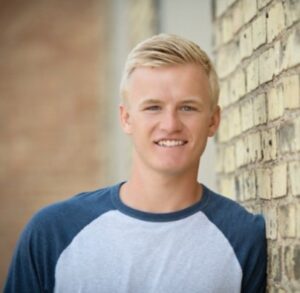 Congratulations to Landon Poll, who is the recipient of the $1000 Grandville Community Leadership Scholarship.
Landon is the son of Holly and Ron Poll and is planning to attend Cornerstone University, studying business management and finance.  In addition, to having an outstanding GPA and in the top 15 in his class, he has been described by educators as a Quiet Leader, Quiet confidence, Respectful and self-motivated.
Landon has been heavily involved in his church at Woodhaven Reformed, National Honor Society, and has served all 4 years of high school on the football and baseball team.
Principal Adam Lancto had a beautiful recommendation touting the reasons why Landon should win this honor, but he ends with this.  "Landon is the type of student that every teacher wishes for and one that every parent hopes they raise."
Landon will be celebrated at the Chamber's Community Awards Celebration held on Thursday, April 25 from 6 pm – 8 pm.  The event is free to attend and open to the public, but registration is required.      More info and to register!